Mahesh Bhatt's film 'Sadak 2' became the worst-rated film on IMDb. The trailer of the film became the most disliked trailer on YouTube. The film has now become the worst-rated film on IMDb. 'Sadak 2' has been released recently. It is rated 1.1 on IMDb's website.
The film's closest rival is a 2015 Turkish film named Code: K.O.Z, which has a rating of 1.3. 'Sadak' 2 has also been rated poorly by critics. The film directed by Mahesh Bhatt. Alia Bhatt, Pooja Bhatt, Sanjay Dutt and Aditya Roy Kapur have an important role.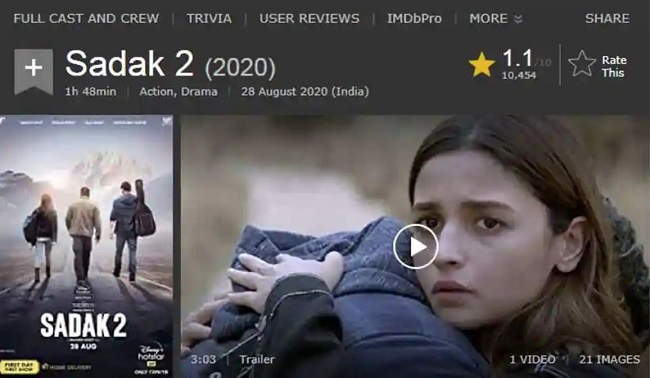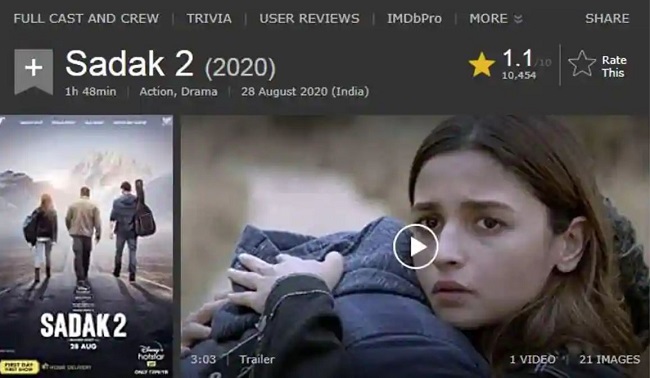 Adjectives such as 'unbearable', and 'inexplicable' were used for the film. Earlier the campaign to make the film trailer the most disliked video on YouTube was started. This was pioneered by fans of actor Sushant Singh Rajput. Sushant's fans have turned against some members of the film industry, especially based on the theory that Sushant is being 'outsider', leading him to commit suicide.
Riya Chakraborty, Sushant's girlfriend, recently confirmed in an interview that he was upset over not being recognized. He said, 'Even after doing successful and different style films like Sonchiraiya and Chichhore, he was not being nominated for the Film Awards.